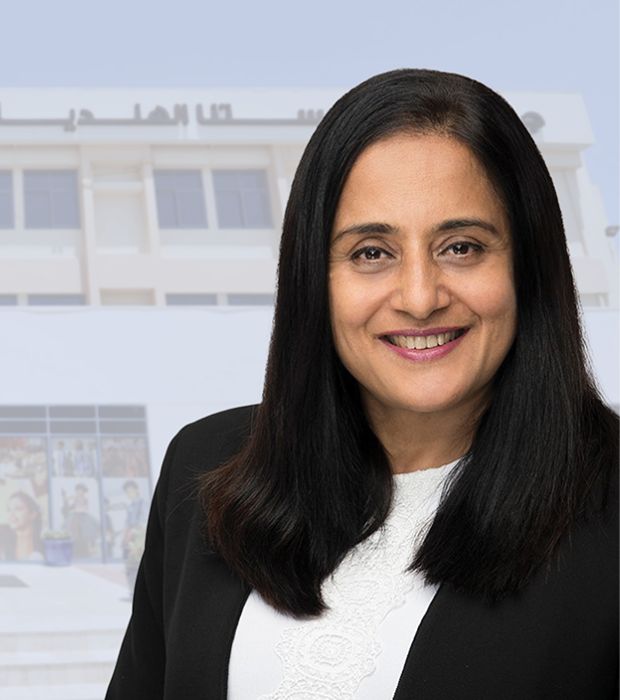 Message from the Principal
As GEMS Our Own Indian School takes giant steps towards being an innovative and progressive school we continue to remain a happy, secure, hardworking and sincere school of learning. It is, therefore, imperative for us, that once a child steps into the portals of this hallowed edifice he or she finds it to be a haven where many hours are spent in joyful and uplifting company, making it his/her second home.
All staff at OIS believe that no one is a stranger and we accept all our students with their strengths, talents, and areas for development. We truly believe in the principle of Embrace, Engage and Empower. OIS aims to make learning an enjoyable experience wherein the body, mind, and spirit is nurtured with great care and love. Recognizing every child as a unique individual, the school is committed to delivering education that is truly multi-faceted; with an approach driven by experience, creativity, and a far-reaching global outlook.
Developing Global Competence
Our vision of developing global competence in all our learners is embedded in all that we do. Our strong and committed team of teachers ensure the delivery of the curriculum with excellence. Our two STEAM labs ensure that primary and middle school students learn the integrated CREYA curriculum, Callido ensures that our middle school learners are developing their literacy and critical thinking skills, Alasafeer ensures that the Arabic curriculum is enhanced, Microsoft Imagine Academy courses enable our students to earn Microsoft certificates at their own pace.
Our well- rounded education, however, goes much beyond methodology. We at OIS, are proud to say that we provide a world-class education that shapes the child with a personality that will make him or her step out into the world with confidence. We sincerely believe that this is possible only through a close bond between home and school. We, therefore, seek the enduring and binding support of the parent community in our endeavours to bring out the best in each and every child. I believe that together we can make a difference in developing their inner qualities of innocence, creativity, generosity, confidence, and tolerance so that they become universal and integrated citizens of the world. The GEMS core values are well-knit into the fabric of school life to give the students a holistic education. Our strong community relationships have enabled us to build partnerships with universities that offer scholarships exclusively for OIS students.
We believe that the happiness, health and safety, and learning of our children are of utmost importance. We are constantly evolving strategies and systems to best serve their needs. In our mission to inspire and encourage our students to be lifelong learners, we guide them to imbibe the precepts of respect, responsibility, persistence, and fairness while being empathetic young individuals with integrity. This rich educational experience will enable them to lead worthy lives of valuable achievements and accomplishments, which will no doubt be the result of living in the outside world, the learning they received at OIS.
With good wishes,
Lalitha Suresh
Principal