Awards and Success
Celebrating and rewarding success

International Woman's Day Excellence Award
Eleven women in Dubai were honoured at the 11th International Women's Day Excellence Awards held on 8th March, 2012 at Holiday Inn, Dubai. The award ceremony recognised a range of talent in the community, placing women from different cultural backgrounds and fields in the limelight.
"The goal is to applaud the woman who does something that benefits the community — the scale doesn't matter. Neither does her position. It isn't a competition. Each woman is an achiever in her own right". This is the vision of the managing director of Dhwani Group of Companies and Dhwani School of Arts and Cultural Institute who founded and organized this event. Being the only event of this kind in the GCC, the event has earned the recognition and endorsement of the United Nations. The event was sponsored by Bank of Baroda, NMC and was held under the patronage of Lion's Club of TVM, Dubai
Mrs. Lalitha Suresh, Principal of GEMS Our Own Indian School, Dubai and a GEMS employee for 23 years was nominated for her selfless and exemplary contribution to the field of education for nearly 27 years. Her passion for teaching and learning, making learning real and developing a sense of learning community in the school was recognized by the organizing committee. Mrs Suresh was a deserving recipient of this prestigious award. We are proud that her long years of dedicated service in the field of education in the UAE has been recognized and honoured. Surely this will be a great inspiration to many leaders, staff and students in the GEMS Group.
Eco Schools Green Flag
GEMS OOIS - the proud Winner of the Internationally recognized Green flag 2019 award – striving towards a Green Revolution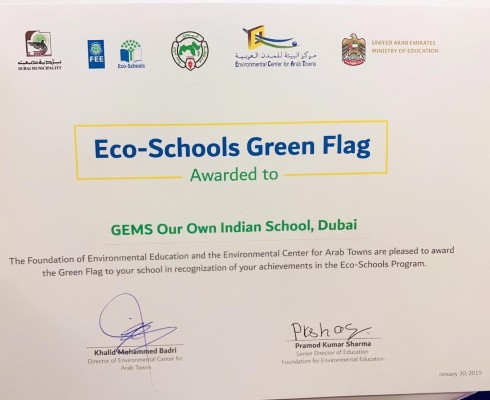 UNESCO
Certificate from UNESCO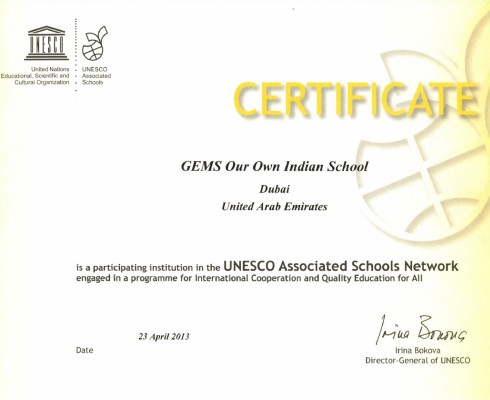 Diana Award Winners of OIS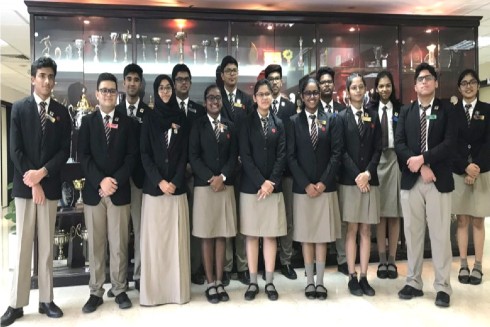 Dubai Cares - Young Philanthropists Award
OIS students secured the first place in the Senior category at the Young Philanthropists Awards.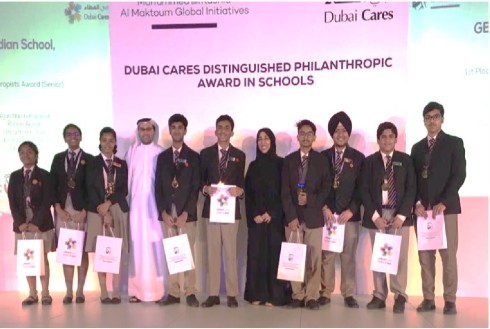 ZEE Cine Awards - Tamil - January 2020
Sadhana Lakshmi won the Best Child Artist - 2020 at the ZEE Cine Awards.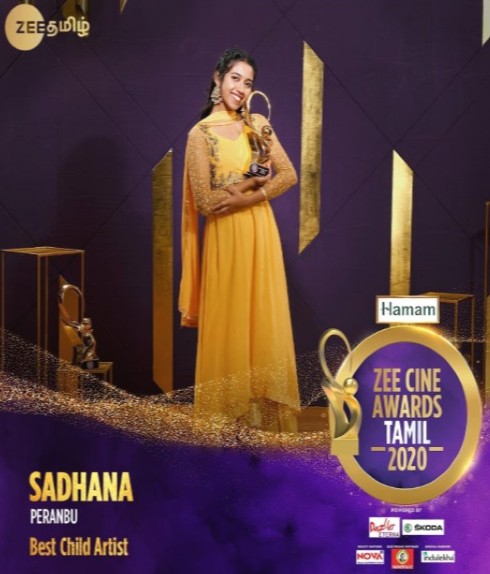 The World Scholar's Cup
Siddharth Nair, Arjun Kumar and Naveen Suresh Nair qualified for the Tournament of Champions held at Yale University, Connecticut, USA.