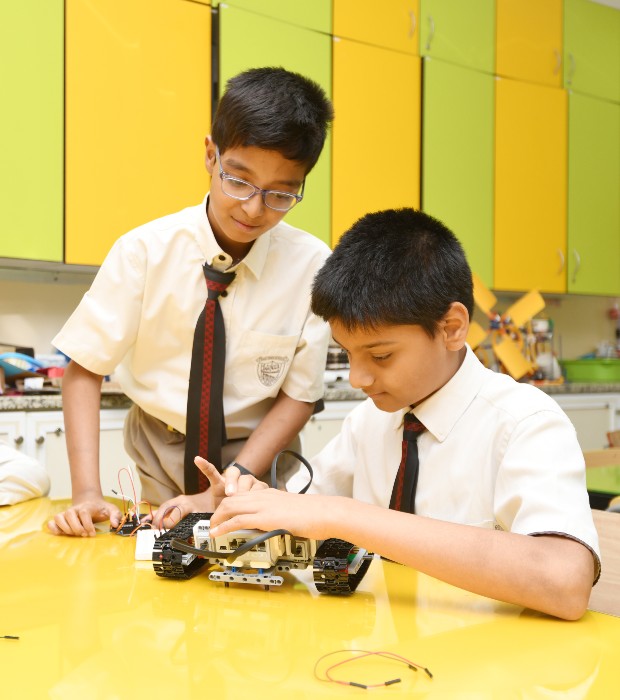 Middle School
Grades 6 to 8
The pace of academic demands is slowly accelerated and while holistic growth is always the focus, our students are gradually prepared to accept challenges. The students become aware of the need to set goals and have long-term objectives.
Ongoing evaluation and technology - oriented classroom sessions ensure that each student>s progress and development is continuous and meets the standards determined by the school.
An array of extra-curricular activities broadens the opportunity for students to develop their natural abilities and to challenge themselves through growth in new areas. We aim to develop a holistic and sound foundation through character development and confidence.
The following subjects are offered at the Middle School Level
English
Mathematics
Science
Social Studies
Value Education and Islamic Education
French I Malayalam I Hindi (Choice of one)
Arabic
U.A.E. Social Studies
Moral Education
Music, Dance, Robotics, Art and Craft, Physical Education and Library are included in the timetable to make sure that latent talents are developed and taken to new heights. It is our constant endeavor to lay the foundation for aesthetic appreciation and enjoyment of extracurricular activities.
CREYA encourages inquiry based and experiential learning. Focus is on Skill Development Research and project based learning helps to acquire thinking skills and a positive attitude).
Middle school is the 'Middle-earth' of Tolkien's Lord of the Rings in letter and spirit. As the pace of academic demand slowly gains momentum, so does the preparedness to equip students with the skills to accept these challenges. The troubled waters of adolescence in a fast-changing world is the priority issue, when students are to be calmed into responsible young people, so that, when they move to the senior school the gentling process is well underway.