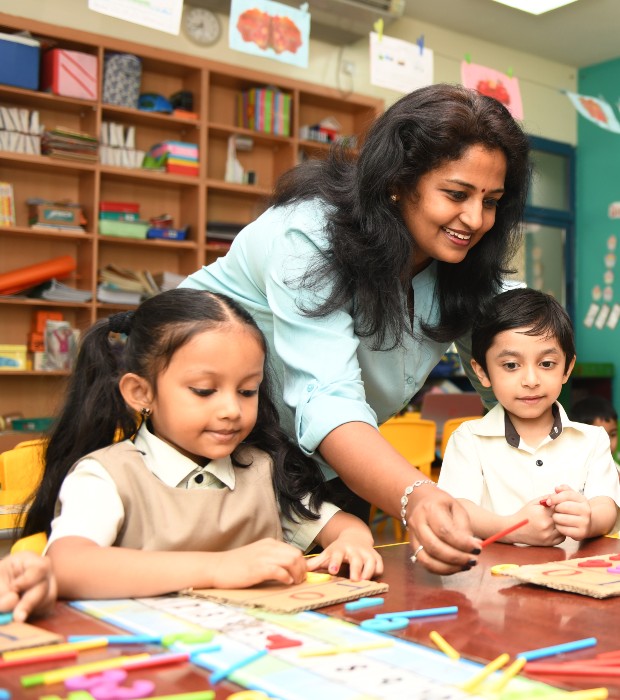 Kindergarten
Pre-Primary
Our main objective for the Kindergarten years is to help our young students develop their cognitive and motor skills. During these formative years, the young learners are initiated to school life via a friendly and stimulating atmosphere. We actively encourage the development of students> curiosity and imagination by exposing them to an exciting and wonderful world of learning. Basic cognitive and motor skills are developed through a variety of creative, kinesthetic and problem-solving activities.
By the end of the Kindergarten years, students develop a love for learning as well as Mathematica l, Linguistic and Psycho- Social skills. Significant emphasis is placed on providing individual attention to develop each student's potential and thus help the students gain confidence in their abilities to explore new areas of learning.
A strong emphasis is laid on continuous assessment, which forms an integral part of the CBSE curriculum. Our team of qualified teachers initiate the young students to explore new areas of learning in a child-centered environment.
Subjects at Kindergarten Level
English with emphasis on Listening, Speaking, Reading and Writing skill development
Numeracy
Environmental Awareness
Creative, Personal, Social and Emotional Development and Physical Education are also woven into the curriculum. Students are encouraged to participate in an array of fun-filled activities like story-telling sessions, field trips, special assembly gatherings, indoor and outdoor games and singing. Students also have fun during hands­ on learning experiences.