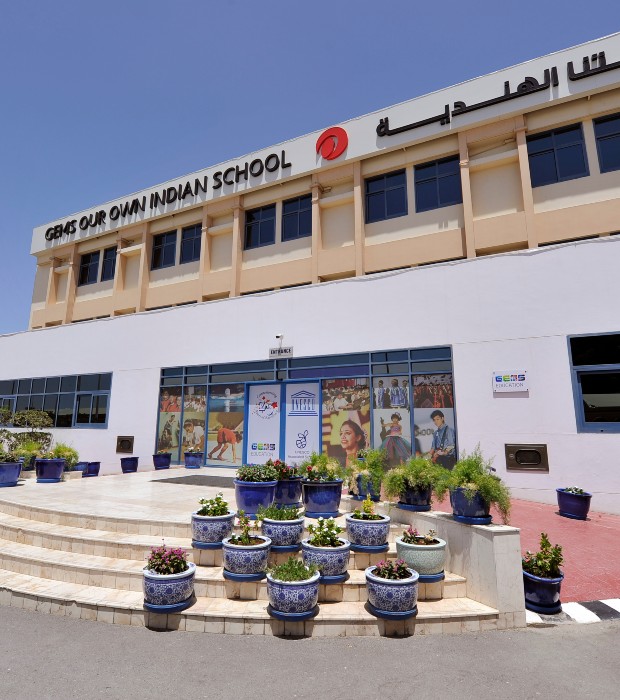 Our School
Welcome to GEMS Our Own Indian School - Dubai
At GEMS Our Own Indian School, education is looked upon as a holistic learning experience. We aim to help each child become a self-reliant, responsible, socially aware individual and adapt to the changing needs of the society.
Our new vision statement is "Nurturing dynamic learners in an inclusive environment", which was framed in collaboration with students, parents and teachers.
We aim to achieve this through:
Critical Thinking and Problem Solving – To be reflective thinkers and find solution that best resolve problems
Social Intelligence – To be collaborative, entrepreneurial and obey social skills
Cognitive Load Management – To maximize cognitive functioning through discrimination and filtering information
Design Mindset – To develop tasks and innovate work processes for desired outcomes
Transdisciplinary – Literacy in and ability to understand concepts across multiple disciplines
GEMS Our Own Indian School has earned an enviable reputation for high academic standards and the strong sense of community that has developed within the school. The standards of excellence also extend to the extra-curricular programmes that the school offers, ranging from sports, arts and crafts, dance and music. Winners of several competitions and awards, achievements in these areas have been formally recognized. The school has been appreciated widely for enriching its curriculum by integrating environmental activities through vegetable and fruit gardens in the school and participating in recycling and saving the planet projects.
Significant emphasis is placed on the development of strong relationships between teachers and their students and individualized attention has become a hallmark of GEMS Our Own Indian School.
At GEMS Our Own Indian School, students are provided with a high educational standards per the CBSE syllabus.
OIS at a glance
Entrepreneurs at the root level