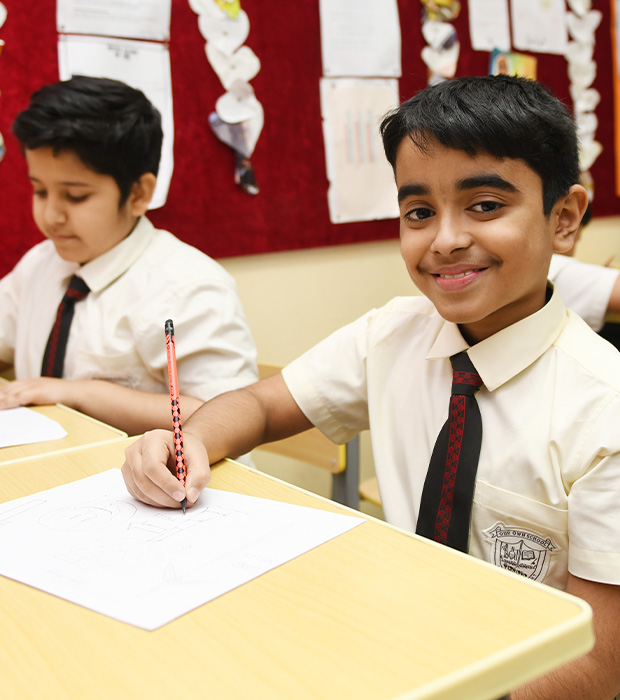 Primary School
Grades 1 to 5
The Primary Years Grades 1 to 5 is always abuzz with exciting fun-filled activities and events. Other than academics, some favorite days are Earth Day, World Environment Day, Healthy Food Week, UAE Carnival etc. Students enjoy as well as learn meaningful lessons through these events.
Mother's Day, Father's Day, Grandparents Day and Family Science Day are unique events when parents and students are asked to spend quality time together. Field trips are organized to concretize classroom learning. These are the founding years, where we help to instill the right values and a strong sense of responsibility and ethics in all our students.
Neat and careful work is encouraged and all good attempts are praised and valued. Students are provided with a wide range of techniques covering formal problem-solving, open-ended investigatory situations and observation skills are developed to extend their thinking process.
GEMS Our Own Indian school follows the continuous assessment plan which enables us to monitor a child's progress. Throughout the Primary years, the student is supported in reaching his/her full potential in all areas of the curriculum. The student is encouraged to acquire attitudes and skills, which will support his/her education in the future years.
Apart from preparing our students to succeed in academics, we emphasize the importance of maintaining a strong moral fiber, honesty and integrity in every task they take up. A great emphasis is laid on positive motivation.
Subjects for Grades 1 to 5
English
Mathematics
Science
Social Studies (Indian and UAE SST)
Hindi I Malayalam for grades 1 to 4 and Hindi I Malayalam I French for grade 5
·Arabic
Islamic Studies I Value Education.
Computer Science
Physical Education
Music
Life Skills and SEWA
Music, Art, Craft, and Physical Education classes are integrated in the timetable to make sure that latent talent are developed. STEM CURRICULUM has been introduced to develop 21st century skills in our students. Students participate in several extra-curricular activities such as games, dance and special assemblies, which foster positive attitude and healthy habits. Performing Arts like Role Plays and Drama and Life Skills are integrated in all subject areas.