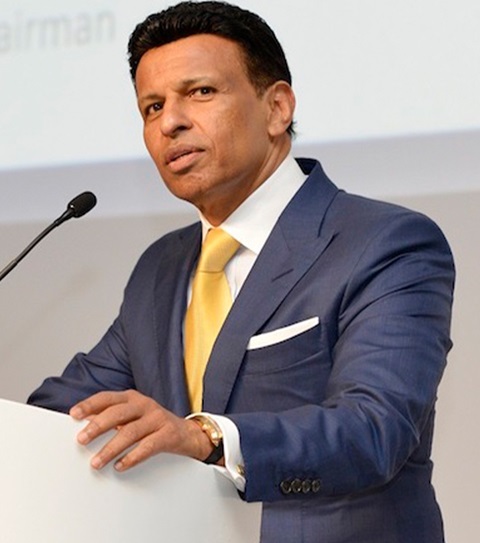 Sunny Varkey, Founder and Chairman, GEMS Education
Dear GEMS Families,
As we enter a new decade, I would like to highlight the various GEMS Education programmes and initiatives that you can expect over the course of 2020. All of these are designed to enhance the quality of education that our students receive.
Delivering a quality education, providing exceptional opportunities and ensuring the wellbeing and happiness of our students and their families are what we at GEMS Education strive for every day. Our relationship with you, our parents, and the relationship between our class teachers and our students and their carers are of vital importance to us, which is why we are continuously looking at ways to build and enhance our collaboration with parents and our school communities.
As such, an important GEMS Education initiative gaining traction is the Quality Assurance Programme. This was first introduced in select schools last year and has now been rolled out across our entire network. The programme embodies our promise to you, our parents, to listen to your needs, take on board your feedback and act accordingly. It recognises how vital it is that we get closer to our families and better understand your requirements and circumstances, as this will result in improved learning outcomes and altogether happier students, parents and staff.
The five ground-breaking Centres of Excellence that we launched in partnership with key industry players towards the end of last year are fast gaining momentum and have already begun to deliver an array of unique opportunities for students. These Centres benefit not only the schools out of which they operate, but also the wider GEMS Education network. They reflect our forward-thinking approach to learning and are designed to help furnish our young people with the skills and knowledge they need to prosper in a rapidly changing world.
These changes are impacting not only industry and technology, but also the environment and climate. As such, the urgency to act in response to climate change is clear for all to see, which is why I am immensely proud of the steps taken in 2019 by The Kindergarten Starters to become the first school in the world to become United Nations Climate Change certified. This exemplary achievement is inspiring all GEMS Education schools to follow suit, and by encouraging more and more of our teachers to become UN:CC accredited, we can ensure our students are fully informed and best placed to deal with the challenging world they will inherit.
One thing that has not changed is the importance of instilling values in our students. The GEMS Jewels of Kindness and Respect initiative launched last year is now in full swing, and in 2020 our schools will take it to the next level, to truly embed fundamental human values across every aspect of our education provision. We will continue to showcase the wonderful acts of empathy, helpfulness, compassion and respect being undertaken by our students and staff every day, and I strongly encourage our parents to do the same.
Finally, with Expo 2020 fast approaching, our schools are gearing up to play an active role in this historic event. We are working closely with the Expo team to help realise the UAE government's vision, and you can be sure that our students will have the chance to take full advantage of the tremendous opportunities afforded.
I have no doubt that 2020 promises to be another successful year for all our schools and students. We will build on the tremendous achievements of last year and continue to provide our students and their families with the highest-quality education and service.
I wish you a happy, prosperous and fulfilling year ahead.
Sunny Varkey
Founder and Chairman, GEMS Education
إلى جميع العائلات في جميس للتعليم،
مع استقبالنا لعقد جديد، أود تسليط الضوء على مختلف البرامج والمبادرات التعليمية التي سنقوم بها على مدار عام 2020. فلقد تم تصميم جميع هذه البرامج لتحسين جودة التعليم الذي يتلقاه طلابنا ولتزويدهم بفرص أكثر قيمة للنمو والتعلم.
وفي ظل سعينا المتواصل في جيمس للتعليم لتوفير تعليم جيد وفرص استثنائية، وضمان رفاهية وسعادة طلابنا وعائلاتهم، وضعنا في قلب أولوياتنا علاقتنا بأولياء الأمور، والعلاقة بين المعلمين والطلاب، من أجل بناء وتعزيز تعاوننا مع أولياء الأمور ومجتمعاتنا المدرسية.
ومن أهم مبادرات جيمس للتعليم الفريدة من نوعها، هو برنامج ضمان الجودة. حيث تم تقديم هذا البرنامج لأول مرة في مدارس مختارة في العام الماضي وتم نشره الآن عبر مدارسنا بالكامل. ويجسد البرنامج وعدنا للطلاب وأولياء الأمور، للاستماع إلى احتياجاتهم، واستيعاب ملاحظاتهم والتصرف وفقاً لذلك. إننا في جيمس للتعليم ندرك مدى أهمية أن نقترب أكثر من عائلاتنا ونفهم بشكل أفضل متطلباتهم وظروفهم، مما سيؤدي إلى تحسين نتائج التعلم وإلى سعادة الطلاب وأولياء الأمور والموظفين في مدارس جيمس للتعليم.
وإضافة إلي برامجنا المميزة، فإن مراكز التميز الخمسة الرائدة في المدارس التي أطلقناها حتى نهاية العام الماضي بالشراكة مع الجهات الفاعلة الرئيسية في عدد من الصناعات، قد لاقت زخماً سريعاً وبدأت بالفعل في تقديم مجموعة من الفرص الفريدة للطلاب. فتستفيد من هذه المراكز ليس فقط المدارس التي تعمل منها، ولكن أيضاً مجموعة مدارس جيمس للتعليم الواسعة. حيث تعكس طريقة التفكير المستقبلي في التعلم وهي مصممة للمساعدة في تزويد شبابنا بالمهارات والمعارف التي يحتاجون إليها للازدهار في عالم سريع التغير.
هذه التغييرات لا تؤثر فقط على الصناعة والتكنولوجيا، ولكن أيضاً على البيئة والمناخ. لذا تقتضي الضرورة للتصرف السريع استجابة لتغيرات المناخ الواضحة للجميع، وهذا هو السبب في أنني فخور للغاية بالخطوات التي اتخذتها مدرسة جيمس الروضة الإبتدائية في عام 2019 لتصبح أول مدرسة في العالم معتمدة في التغير المناخي من الأمم المتحدة. هذا الإنجاز الاستثنائي يعتبر نموذج ملهم لجميع مدارس جيمس للتعليم ليحذوا حذوه، لتشجيع المزيد من معلمينا على أن يصبحوا معلمين معتمدين من الأمم المتحدة، لضمان أن يكون طلابنا على دراية كاملة وأفضل حالة للتعامل مع المتغيرات الصعبة التي يواجها العالم كل يوم.
شيء واحد لم يتغير هو أهمية غرس القيم في طلابنا. إن مبادرة جيمس للتعليم لجواهر اللطف والاحترام التي تم إطلاقها العام الماضي تعمل الآن على قدم وساق، وفي عام 2020 ستقوم مدارسنا بالانتقال إلى المستوى التالي من هذة المبادرة الثمينة، لتضمين القيم الإنسانية الأساسية عبر كل جانب من جوانب التعليم. ونستمر في عرض الأعمال الرائعة المتمثلة في التعاطف والمساعدة والرحمة والاحترام التي يقوم بها طلابنا وموظفونا يومياً، وأنا أشجع أولياء الأمور على تشجيع أطفالهم على الاستمرار في هذة الأعمال الطيبة.
أخيراً، مع اقتراب موعد إكسبو 2020، الحدث الأروع في العالم، تستعد مدارسنا للعب دور نشط في هذا الحدث التاريخي. ونحن نعمل عن كثب مع فريق إكسبو للمساعدة في تحقيق رؤية حكومة دولة الإمارات العربية المتحدة، ولإتاحة الفرصة أمام طلابنا للاستفادة الكاملة من الفرص الهائلة التي سيجلبها هذا الحدث.
وليس لدي أدنى شك في أن عام 2020 سيكون عاماً ناجحاً لجميع مدارسنا وطلابنا. وسنبني على الإنجازات الهائلة التي حققناها في العام الماضي وسنواصل تزويد طلابنا وعائلاتهم بأعلى جودة في التعليم والخدمات التعليمية.
وفي الختام، أتمنى للجميع عاماً ناجحاً يحمل بين طياته الأمن والأمان والرخاء.
صني فاركي
مؤسس ورئيس مجموعة جيمس للتعليم