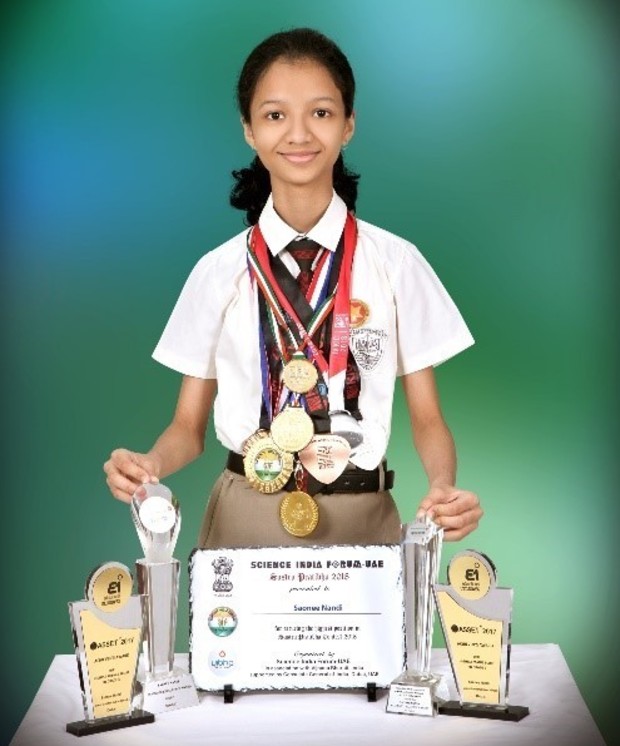 Igniting Aspirations
Saonee
"Your success and happiness lie in you." - Helen Keller. In Saonee's perspective, every person must define their concept of success according to what gives them happiness and contentment. Achieving success is not possible within a split of a moment and is an arduous task.
Saonee's goal in life is to develop a career in Biotechnology that gives her contentment. Dreaming about achieving goals in life is a splendid idea. Nonetheless, working on it every day seems more than just a fantasy. However, this fantasy could change into reality by accomplishing small milestones to cover a long distance to reach her destination.
Learning to enjoy every moment of school paved way for her to become the Grade Topper in Grades 5, 6, & 7. Grabbing every opportunity that came in her journey helped her realize her potential. She started competing in various Olympiads and secured Zonal Rank 1 in Mathematics & Science in Grade 5 and later UAE Ranks 3, 7 & 8 in Science, Mathematics and English, respectively in Grade 8. In Spelling Bee Championships, she made it as a semi-finalist a couple of times. She has fetched Bronze & Silver medals several times in KenKen International Championship due to her love of solving mathematical puzzles in Grade 6, 7 & 8. She has ranked amongst the top 50 students in the UAE for ASSET Exams & received the highest score Achiever's Award for Science and Mathematics in Grade 7.
She attained the fire to ignite her aspirations through her passions and hobbies that include brushing her artistic skills and setting on a venture to explore emerging technologies. With her enthusiasm towards Science, she has won the prestigious title of 'The Sastra Pratibha - 2018' in Grade 7. Following that, her passion for technology earned her International Rank 2 in A.I. Olympiad held by School Connect Online in Grade 8.
The greatest challenge she faced in her journey was overcoming her shy nature. However, being the Leo House Captain in Grade 4 fostered her to express herself in a more receptive manner. Overcoming her flaws seemed like a victory to her. She developed her leadership skills as a council member in Grade 5 and the Science Subject Prefect in Grade 8. She believes that no matter how difficult our goal appears to be, we must never confine our ambitions. The key was inspiring herself and opening rooms for self-improvement and appreciation.
She thinks, 'Well begun is half done,' we need to spark a push, the rest will settle right in place. Even if we totter a couple of times, the mistakes that we make lay a foundation for a steady path. We never know when our efforts will bear the sweet fruits of success. The way to accomplish our goals is always challenging. We tend to concentrate on the outcome, but the journey towards the goal is what matters the most.