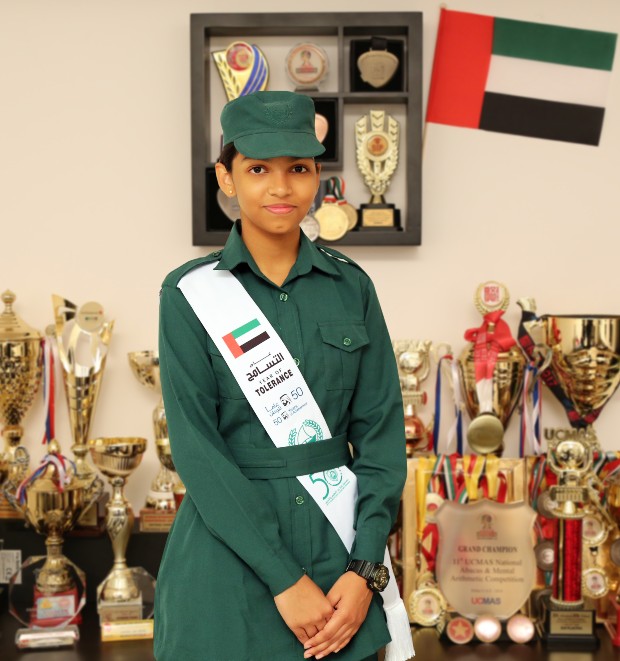 Victory and Joy of the People
Nichole
The first distinctive characteristic which comes into my mind when asked to describe myself is my name, Nichole.
My name means "Victory and Joy of the People", and this precisely explains what I am passionate about. I take up small initiatives to help the community and to protect the environment.
I am a very determined individual who welcomes challenges with a smile. And this has led me to hold several posts such as the Middle School Leader, Music Prefect, Deputy Prefect as well as being involved in organizing school events.
Apart from being a scholar badge holder, I have performed in theatre productions and on various platforms. I am a Trinity College of London certified artist and I am passionate about singing and playing the piano.
I enjoy doing mathematical puzzles like KenKen and Sudoku, which led me to bag the 1st position in the National Level in the KenKen International Championship.
I have also received the prestigious Princess Diana Award which is awarded young changemakers. And yes, I firmly believe that small acts have the power to change the world!
Our school had taken part in the Hemaya Competition for field training and I was selected as the Commander in Chief of the parade performed by 6 schools in the Dubai Police Academy. I felt a great sense of patriotism towards the UAE while leading the oath in Arabic. Saluting Major General Abdullah Khalifa al-Marri, Commander-in-chief of Dubai Police as the leader of the parade was one of the unforgettable moments in my life. After the parade, I also had the opportunity to meet Major General Abdullah Khalifa Al Marri in person and share my views about the Dubai Police and the idea of creating a Students' Council.
During the Hemaya International Forum and Exhibition on Drug Issues, I had the opportunity to meet His Highness Sheikh Ahmed bin Mohammed and share my thoughts as a student leader with His Highness.
I thank God, my family, my school, my teachers and my friends for being strong pillars of support in my life. I thank every person who has helped me in my life, and I promise to help humanity and to protect the environment in every possible way.